This week, I had the opportunity to sit down with Gary Cohen, the CEO of Cova, to discuss the future of cannabis retail, his vision for cannabis retail technology, and why it's important now more than ever for cannabis dispensaries to offer delivery to their customers.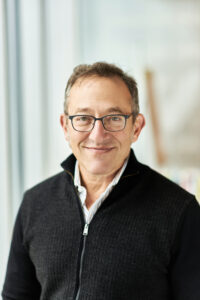 Q: Can you tell us a little bit about yourself, your experience in cannabis, and how you ended up in the position you're in today?
GC: I'm very fortunate to have been a part of two new industries in my career- the first was the mobile phone industry in 1986, and the second was the cannabis industry in 2016. Neither of these two was taken seriously initially and have a lot in common. Both the industries had massive complexities to getting off the ground, faced governmental headwinds, and were started by brave entrepreneurs. I applied my experience from the former to the latter and foresaw an opportunity to advance ahead of what were the initial and elementary cannabis retail solutions with a more compliant and robust platform.
Q: What problem is Cova solving in the cannabis industry?

GC: With strict laws surrounding the cannabis industry, streamlining dispensary administration while keeping operations compliant can be challenging. Moreover, doing it in a way that is easy to understand, learn and execute is a bigger problem. At Cova, we're constantly evolving and developing new tech tools to help simplify the complexity of running a dispensary and ensure that cannabis retailers always stay compliant with changing government regulations. 
Q: With over 1800+ dispensaries in the U.S. and Canada using your system, Cova has quite the hold on the industry. What is it that separates you from your competitors??
GC: Our clients love Cova's cannabis technology platform. But there are various other differentiating factors as well. Our personal approach to ensuring the success of our clients, our excellent launch and support team, and our enterprise-oriented capabilities that allow dispensary owners to manage multiple stores are a few things that stand out. 
Cova spun out of an established POS company (for the mobile phone industry). Thus, we already had the right tech tools (engineering services, IT infrastructure for retailers with 1,000's of stores, APIs for clear ERP integrations, dedicated account support) to optimize for North America's largest cannabis retailers. Through regular training and launch and ongoing software support, we are dedicated to the success of our clients, whether they have one location or over 100.
Q: As new territories continue to legalize cannabis and more retailers open up shop, what would you say are 3 key areas to focus on/advice for new licensees?
GC:
"Know what you want to be about"- what does your brand stand for? Your brand values must reflect in the customer experience you deliver to your target market.

Orient your interactions with customers to be "an educator" about cannabis. By leading with information and generating awareness, you not only win their trust but a long-term loyal customer.
Unfortunately, nothing in this industry happens on time, so be prepared for process delays. Because it is marijuana, extra scrutiny or pushback occurs at every step of the way on the path to "opening a dispensary". So, hope for the best, but budget for delays.
Q: Since the pandemic, consumer buying behaviors have shifted towards delivery. How do you envision this affecting dispensaries in the long-term? How are your customers adapting?
GC: The pandemic accelerated the adoption of cannabis delivery and other convenient services, but we have observed that delivery plays a significantly important role as markets mature. Over time, consumers learn how they prefer to consume cannabis, the types/strains they like most, brands they trust, and retailers who stock the products they want and become accustomed to a particular experience. Since they don't need to "shop in the store" anymore, delivery is convenient. Delivery extends our client's reach, and when they feel the economics make sense to add delivery services, they nearly always do.
Q: What are the benefits of incorporating a delivery service into a dispensary? How difficult is that transition?
GC: Delivery expands a dispensary's serviceable market, either demographically (medical marijuana patients, people without transportation, elderly, etc.) or geographically (more territory, or in the event of bad weather), which provides more sales opportunities. 
With Cova's seamless integration to WebJoint, adding cannabis delivery to a dispensary's operations is quite easy.  However, the difficulty in transition can be due to state regulations and not our two technology platforms. Vehicle type, driver qualifications/certifications, insurance, etc., are a few crucial legal considerations.
Q: What does the future of cannabis technology look like to you?
GC: POS will remain the heart of a dispensary's technology, and cannabis retailers will have to choose between two paths in the future. 1) Go with an all-in-one platform, or 2) Choose a Best in Breed (Retail) Platform. For people using Cova, the future looks promising because we have built our system on an open API architecture that allows multiple software solutions in the cannabis technology ecosystem to integrate into Cova POS. We offer flexibility to our clients regarding the technologies they may want to use and don't restrict them to using "an all-in-one bundle of services."
Q: 2022 is poised to be the biggest year for cannabis – ever. What's next for you and Cova?
GC: 2022 will be a big year for Cova, as we will expand to several new states that have legalized cannabis.  We are also hiring and doubling the number of employees from 65 to 130. 50 of those 65 will be in the product development team, as providing the best-in-class cannabis technology platform to our clients is the main priority. This growth strategy is not only to maintain our position of having the most superior cannabis POS in the industry but to also expand the capabilities of Cova platform further for the benefit of our clients.
Q: What are a few resources you can share with our audience? What are some of your favorite books, podcasts, software, etc. that have benefited your personal and professional growth in the industry?
GC: I look at MJBizDaily every day- they do a great job capturing the industry's news and happenings. I often recommend "Weed the People: The Future of Legal MJ in America" by Bruce Barcott, to people unfamiliar with the history of cannabis and the industry. These resources will help you keep abreast with all the latest events in the cannabis industry.
Q: Lastly, where can our readers find you and learn more about Cova?
GC: You can visit our website at www.covasoftware.com